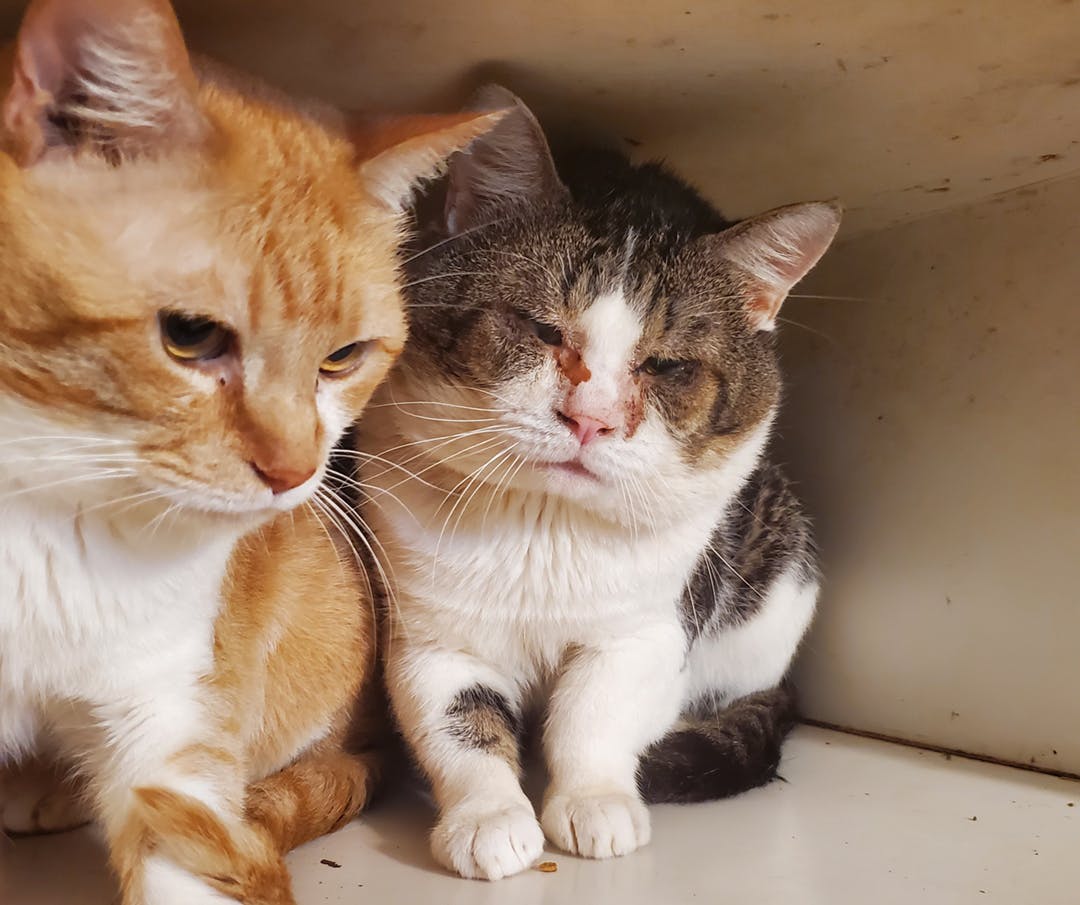 The Bucks County SPCA rescued 20 sick cats and 1 dog from a home in Richland Meadows Mobile Home Park in Richland Township on Friday, May 6, 2022. The animals were living in extremely unsanitary conditions. The property owner had recently been evicted.
BCSPCA's Chief Humane Society Police Officer Nikki Thompson headed straight to the home after a phone call from Constable Jason Searock of Richland Township. When Officer Thompson approached the home, an intense smell of ammonia from the urine inside was evident, despite the home being closed up. Inside the two-bedroom mobile home, the fumes were so strong that they made her eyes run and her throat burn. The conditions inside were filthy, including stacked cages squeezed into the cramped hoarded rooms. The few litterboxes overflowed with cat feces. Officer Thompson found twenty cats, some wandering loose and others caged. One of the caged cats appeared to be wheezing as it tried to breathe. Three cats were trapped in the tiny bathroom. Several of the cats exhibited severe upper respiratory and eye infections. The entire space and all the animals were flea infested. The dog appeared to have multiple tumors.
Officer Thompson spoke at length with and encouraged the owner to surrender the animals to BCSPCA in order for them to get the necessary medical care that she was not providing. Since the owner refused help, Officer Thompson was forced to secure a warrant from the court for their removal. All 21 animals are now safely and comfortably housed at the BCSPCA's two shelters in Quakertown and Lahaska. Each animal has been fully examined by the organization's medical team and begun the treatments necessary to ease their suffering. Some of the cats required intravenous fluids upon arrival, antibiotics for their severe upper respiratory infections, and all of them were treated for fleas. One cat is suffering from entropion, a painful eye condition in which the eyelashes turn inward and scrape constantly against the eyes. Surgery and extensive follow-up care will be required to fix the problem.
"These animals were being kept in deplorable conditions," Officer Thompson noted, "and had not been receiving necessary veterinary care. Unfortunately, this is not a unique case. The BCSPCA is called upon to respond to nearly 500 complaints of neglect and abuse animals each year in Bucks County." Only a few days later, on May 12, BCSPCA responded to a call for help in Falls Township, rescuing a group of amphibians, reptiles, and rodents abandoned in a hotel room. A veterinarian who specializes in exotic animals is directing their care.
BCSPCA executive director Linda Reider urges anyone in Bucks County who is struggling to care for their animals to reach out before the situation becomes dire. "If you or someone you know needs help, reach out to us. The BCSPCA has resources to assist in many situations and expert compassionate staff members. Contact the BCSPCA shelter nearest to you. If you suspect animals are being neglected or abused, report your concerns confidentially to BCSPCA online or call 215-794-7425. Residents can be assured that the organization will follow up to rescue and resolve situations.
The Richland Township animals are being held in the protective custody of BCSPCA. Animal cruelty charges have been filed against the owner. The BCSPCA, represented by pro bono legal counsel from McCarter & English, LLP, will be filing a civil action against the owner under Pennsylvania's Costs of Care of Seized Animals Act. Donations to offset the cost of providing food, shelter, and medical care for these animals can be made to the organization's Animal Relief Fund.
Categorized Under: Advocacy and Legal Issues,BCSPCA News,Blog,Humane Investigations