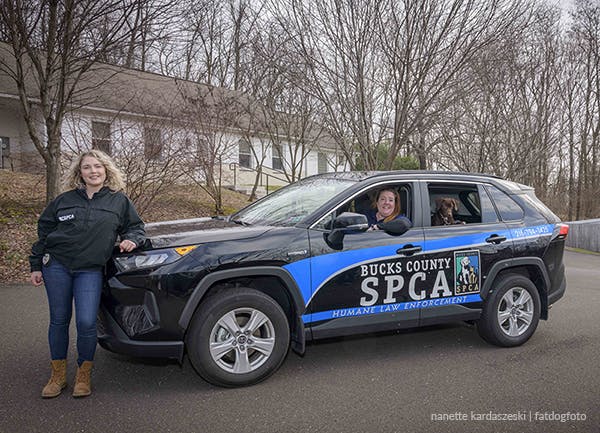 Thanks to a generous contribution from the Josephine and Evelyn S. Smith Foundation, the Bucks County SPCA's team of humane police officers has a reliable new vehicle for responding to more than 500 calls for help each year.
The foundation's investment allowed the BCSPCA the opportunity to buy a new Toyota RAV4, replacing a 9-year-old vehicle with extensive repair needs. Humane police officers are on the road 7 days a week covering hundreds of miles crisscrossing the county responding to calls. For animals in Bucks County, the new vehicle means help is at the ready 365 days a year.
"In 2019 we saw a huge spike in cruelty complaints, court cases, and animals needing to be rescued from cruelty or neglect," reported Linda Reider, executive director of the Bucks County SPCA. "Our team rescued 545 animals last year, nearly triple the number rescued in 2018. From very large hoarding cases, to a single animal cruelly treated, response time can make all the difference. It's critical that our humane police officers have a reliable vehicle so that each complaint is investigated as quickly as possible."
The BCSPCA investigates cases of abuse and neglect for domestic and farm animals anywhere in Bucks County. Our specially trained team of humane police officers respond to every complaint received, enforcing the state's animal cruelty laws.
One call can save a life.
If you suspect an animal is being neglected or treated cruelly, please call our 24-hour tip line 215-794-7425 or email reportcruelty@bcspca.org. All tips are confidential.
The BCSPCA has served the animals and people of Bucks County since its incorporation by the Commonwealth of Pennsylvania in 1912. Our organization was founded by a small but determined group of citizens who patrolled the county, initially investigating cruelty to farm animals. Unchanged since 1912 is our commitment to make Bucks County the most humane community possible, knowing well that it benefits not only animals, but people too.
Categorized Under: Blog