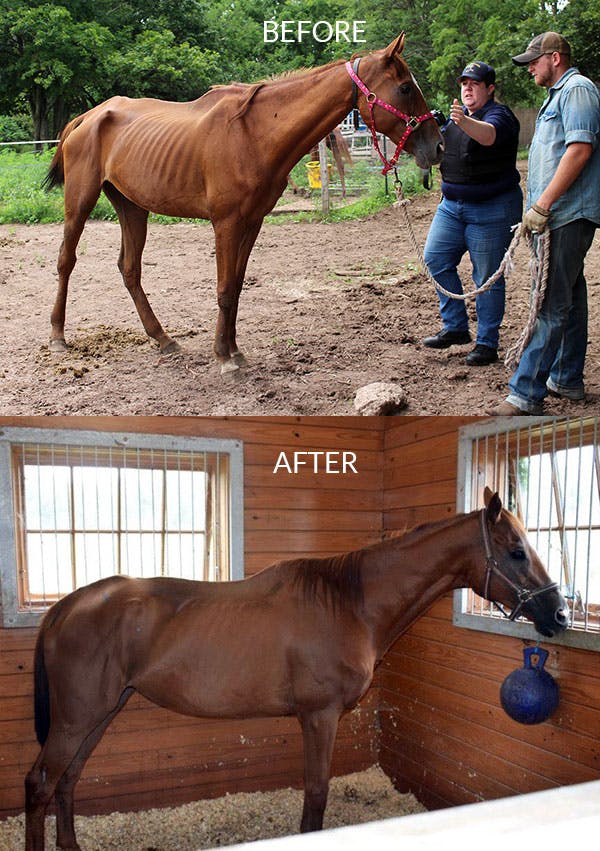 Co-owners Michelle Hawkins-Pena and Billy Pena pled guilty to animal cruelty charges on August 29, 2017, and surrendered three horses, one pot-bellied pig, and six chickens to the Bucks County SPCA. The animals were rescued following a several months long investigation into reports of animal cruelty and neglect at the property rented by the couple in Bedminster Township.
"The greatest joy in a case like this is seeing the animals transform during their recovery and go on to live healthy lives," said BCSPCA Chief Humane Society Police Officer Nikki Thompson following the conviction.
The animals were removed by the BCSPCA with the help of volunteers and neighbors on July 28, 2017. They have since been receiving care at the BCSPCA's Upper Bucks Animal Care Center under the direction of veterinarians specializing in these specific animals. After just four weeks of providing proper food, water, and basic medical care, the horses have gained weight and their conditions improved dramatically. The pig also has health issues and is improving under treatment.
"This is the best of all possible outcomes," said BCSPCA Executive Director Linda Reider. "We are thrilled to have the animals in safe hands and a conviction of animal cruelty against the owners. The BCSPCA will continue caring for these animals so that they make a full recovery. Donations toward their substantial food and medical expenses are greatly appreciated." Give now online (select Care of Bedminster Horses) or by check sent to BCSPCA, PO Box 277, Lahaska, PA 18931.
The animals will remain in the custody of the BCSPCA until they are cleared medically and the time limit for appeal has passed.
Categorized Under: Blog