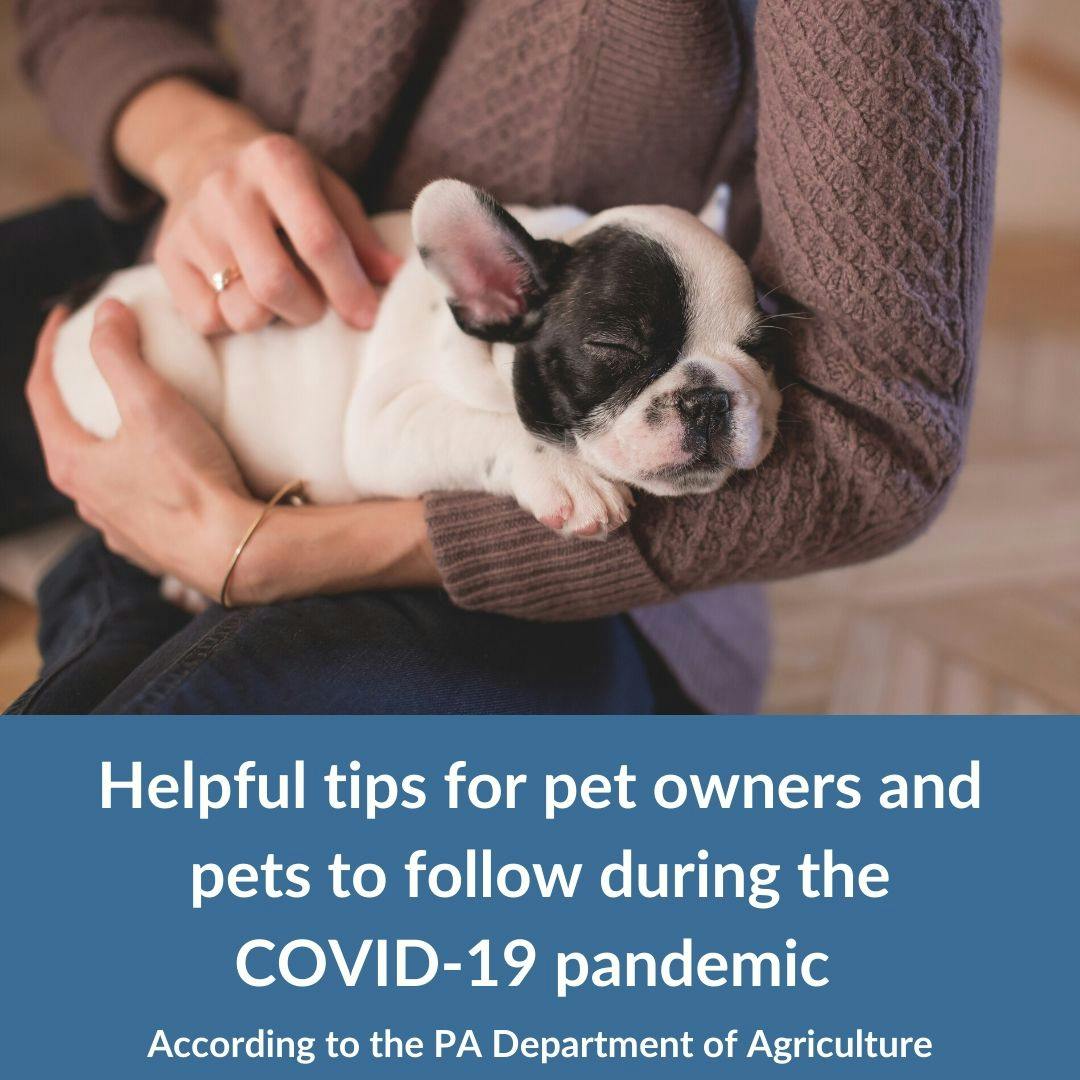 The PA Department of Agriculture has sourced the following guidelines to help pet owners protect both themselves and their pets during the COVID-19 pandemic.
Firstly, pet owners are encouraged to buy pet food and supplies as they normally would, without stockpiling, so that all pet owners can continue to have reliable access.
Pet owners are encouraged to do the following:
Identify a family member or friend who can care for pets if someone in the household becomes ill.

Have crates, food, and extra supplies on hand for quick movement of pets.

Practice social distancing when walking or exercising pets.

Check in on neighbors (while practicing social distancing) who may need help caring for their pets.

If your pets have been exposed to someone with COVID-19, it is recommended

to give them a bath and limit

their

contact with anyone under quarantine.

Pet owners are reminded to wash hands frequently throughout the day with hot

water and soap for a minimum of 20 seconds.

Be sure all vaccines are up to date in the event boarding becomes necessary.

Ensure medications are documented with dosages and administration directions, including the prescription and the contact information for your veterinarian.

Pets should have identification: collar with dog license and rabies tag or any

other vanity style tag with owner information. Information can also be placed on

the pet's cage depending

on the type of pet.

Place a list of pets in the home on your front door for emergency responders.

Include a description of each animal, location in home

,

or on the property

.
Our pets are a great source of comfort and joy. Taking a few precautionary steps will help ensure their safety and your peace of mind in the midst of any crisis.
Learn more at the PA Department of Agriculture website: https://www.agriculture.pa.gov/Pages/COVID-19.aspx
Categorized Under: Blog