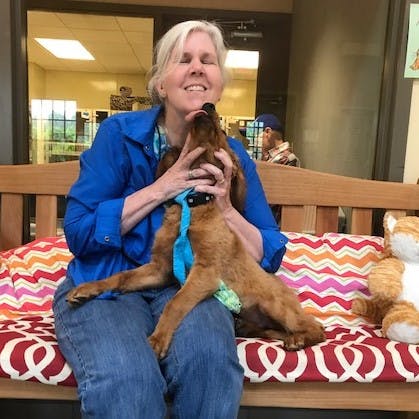 You have many options when looking for a great pet and we want to thank our supporters for considering adoption. We have a variety of animals big and small for every animal lover. If you have never adopted from The Bucks County SPCA, let us fill you in on the magic that happens.
You know what to expect.
All our adoptable animals receive a thorough veterinary exam while in our care.
Animals are re-examined as needed so we can give you a more complete medical history.
Dogs, cats and rabbits are all spayed/neutered and microchipped.
Dogs are tested for heartworm, started on heartworm preventive, flea-treated, wormed, and vaccinated.
Cats are tested for FIV (Feline immunodeficiency virus) and/or FELV (Feline leukemia virus) as well as being vaccinated, wormed and flea treated.
The other animals we have for adoption receive appropriate exams and care for each species—from hoof-trimming to teeth checks!
All animals are also evaluated for behavior while in our care. From these evaluations we can recommend if a specific pet would be good with children, other pets, or if they would do best in a certain type of household.
We want you to be informed and feel confident about the pet you bring into your home.
We've Got Your Back
All adoptions are "same day" unless you choose an overnight hold to get your household ready for the new pet. No waiting, no home visits, no lengthy applications! We are friendly, supportive, and eager to meet you at either shelter (by appointment at this time) seven days a week. Check out our animals online (our website is refreshed every 10 minutes).
We feel so confident in our adoptable pets and farm animals, that we guarantee them 100%! Our full money-back guarantee extends for the first 60 days of ownership. After that time, you can still return a pet for any reason at all, but there is no refund. Our return rate of adopted pets within 60 days averages only 4%! Check out our online reviews to hear what others are saying about their adoption experience with us.
Adopters (and all Bucks County residents) qualify for free animal behavior advice from our Director of Animal Behavior, Eleasha Gall. She is a certified trainer with more than 25 years of experience . Eleasha will work with pet parents to better understand their pet by giving step-by-step commonsense advice. Private dog training sessions with Eleasha are also available at reasonable cost.
A Win-Win for Pets and People
Your adoption makes room at the shelter for other pets in need. Your donation helps us save as many lives as possible (our live release rate averages 93%, well above the no-kill shelter standard).
We couldn't do this important work without the support of our community. The Bucks County SPCA does not receive tax dollars or money from other animal organizations. We are not a "branch" of the ASPCA in New York, either. We are Bucks County's OWN home-grown, independent nonprofit, saving animals around the clock!
Our goal is to help animals and people find their perfect companion. Thank you for choosing the adoption option.
Categorized Under: Blog