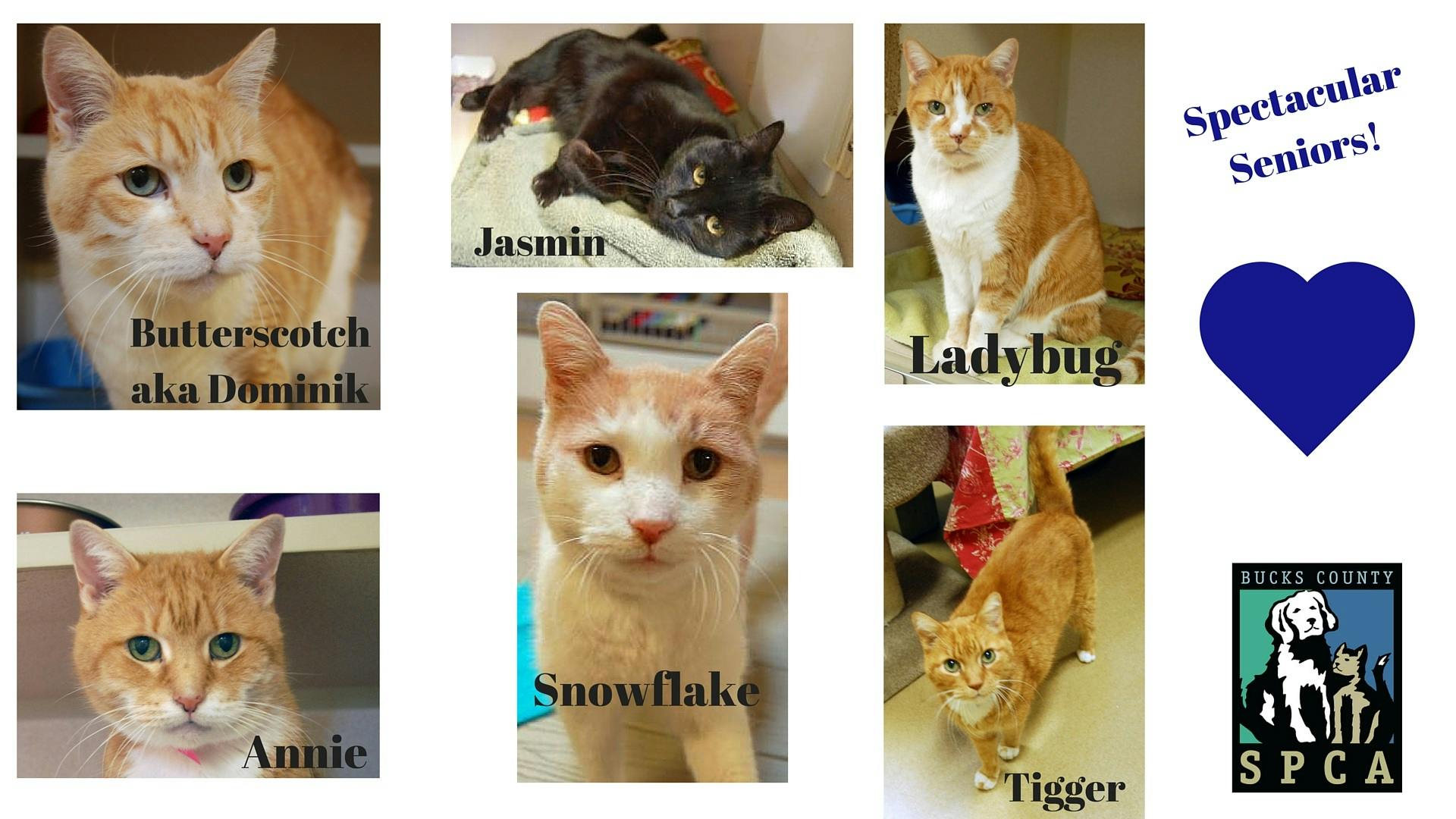 Old Friends Meet Up in the Cat Room
By Joan Greenberg
I've been volunteering in the Lahaska Cat Room every Friday for about five years. During that time I've met many older cats and have fallen in love with all of them, but I was especially touched by a group of cats who joined us not long ago after their elderly owner's health prohibited her from keeping them any longer. Within this larger troupe were siblings – many years ago the woman had opened her home to a pregnant cat and the kittens stayed on and settled in. I guess you could say that the owner and the cats had grown old together.
One of our jobs in the Cat Room is to let the cats out of their cages for a time each day to stretch their legs and engage in a little playing and exploring, with up to four allowed out at any one time. When several are out at the same time, it gives us an opportunity to observe how they interact with one another – some may be adopted into homes where there is already a pet or two so knowing if a cat is agreeable and accepting of other felines is useful information we can share with prospective adopters.
Each of these senior siblings was living in a separate cage, although a couple of them could see one another across the room. At fourteen years of age, they were calm and friendly and enjoyed the attention we provided. One day I decided to let the six of them out together (yes, I broke the rules…just this once). As I went around the Cat Room opening cage doors, each cat took his/her time to assess this new opportunity, jump out and stretch a bit. Then one by one they found one another, forming a small, slightly disorganized group – it looked like a cat cocktail party. Immediately these gentle souls started to greet one another, touching cheeks and leaning body against body – it was obvious that they not only recognized their former roommates, but (and here I'll risk attributing human feelings to them) loved one another and were enjoying the reunion of their little cat community. They were such a joy to watch – I wanted to take them in my arms and give them a big hug for being such sweet kitties (I didn't).
I often wonder what our cats think when they find themselves uprooted from their homes and living in our Cat Room. Some of the younger cats seem to see an adventure, a new place to explore. Our senior cats sometimes withdraw, challenging us to earn their trust and help them through this major life transition. As many of our adopters already know, older cats make wonderful pets – and the good news is that each of the five cat siblings now has a new home. Jasmin, the mother, is waiting at the Lahaska location for that special person who is ready to open their heart to a senior cat. I've lived with enough senior cats to know that they can be resilient and adaptable, even though it might take them a little longer to adjust to situations – it's so worth it to see them happy again. I hope potential adopters won't reject an available cat based solely on his age – you will be missing out on a wonderful and loving companion.
Categorized Under: Blog