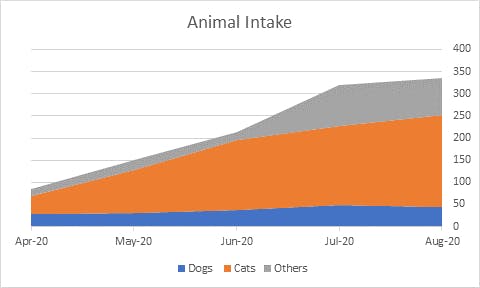 As of today, the Bucks County SPCA is feeding, sheltering and providing medical and other lifesaving care for 343 animals between our two shelters and foster program. That's a lot of kibble, litter and medicine, not to mention the staffing, utilities and other essentials.
The vast majority of these animals are not yet ready for adoption, including:
101 cats, dogs and farm animals held in protective custody. These animals have been rescued through our animal cruelty investigations, including the 80 animals rescued from a so-called "sanctuary" in July. Due to COVID-related court closures this summer, we've had to hold more animals longer until their cases are settled, adding to the backlog behind the scenes at the shelters.
Many animals in foster care, mostly tiny kittens but also adult cats, dogs, rabbits and farm animals with medical or other needs.
Dozens of animals requiring prolonged medical treatment before they can go home. This summer brought us many senior, sick or injured animals requiring special care by our vet team. And we've been busy dipping dozens of kittens in medicated baths to cure them of contagious skin diseases.
People are often surprised to learn that our shelters are full when they may see only a small number of available pets up for adoption. Our cats and dogs fly into homes in under a week (on average) once they are cleared for adoption, so the turnover in our adoption kennels is quick. What is not seen are the hundreds of animals still recovering from illness, waiting for a victory in the courts, or in need of a little more time to grow big and strong.
In short, animals are coming in faster than they are leaving for new homes. And at the same time, thanks in part to COVID, income is down and expenses are up.
We need your help to keep up with the demand for services during this challenging time. Give a resiliency gift today to help give our shelter pets a second chance at happiness.
A gift of $20 provides initial vaccines and testing; $50 covers spay/neuter surgery and microchipping; $100 provides medication for a sick animal.
Please give what you can. Together, we'll make sure no animal goes without, even in these challenging times.
Sadly, we know many of you are struggling to care for your pets this year. Please reach out if you need help. We can provide re-homing services, pet behavior assistance, or point you to food pantries who offer pet food and supplies to county residents.
Categorized Under: Blog