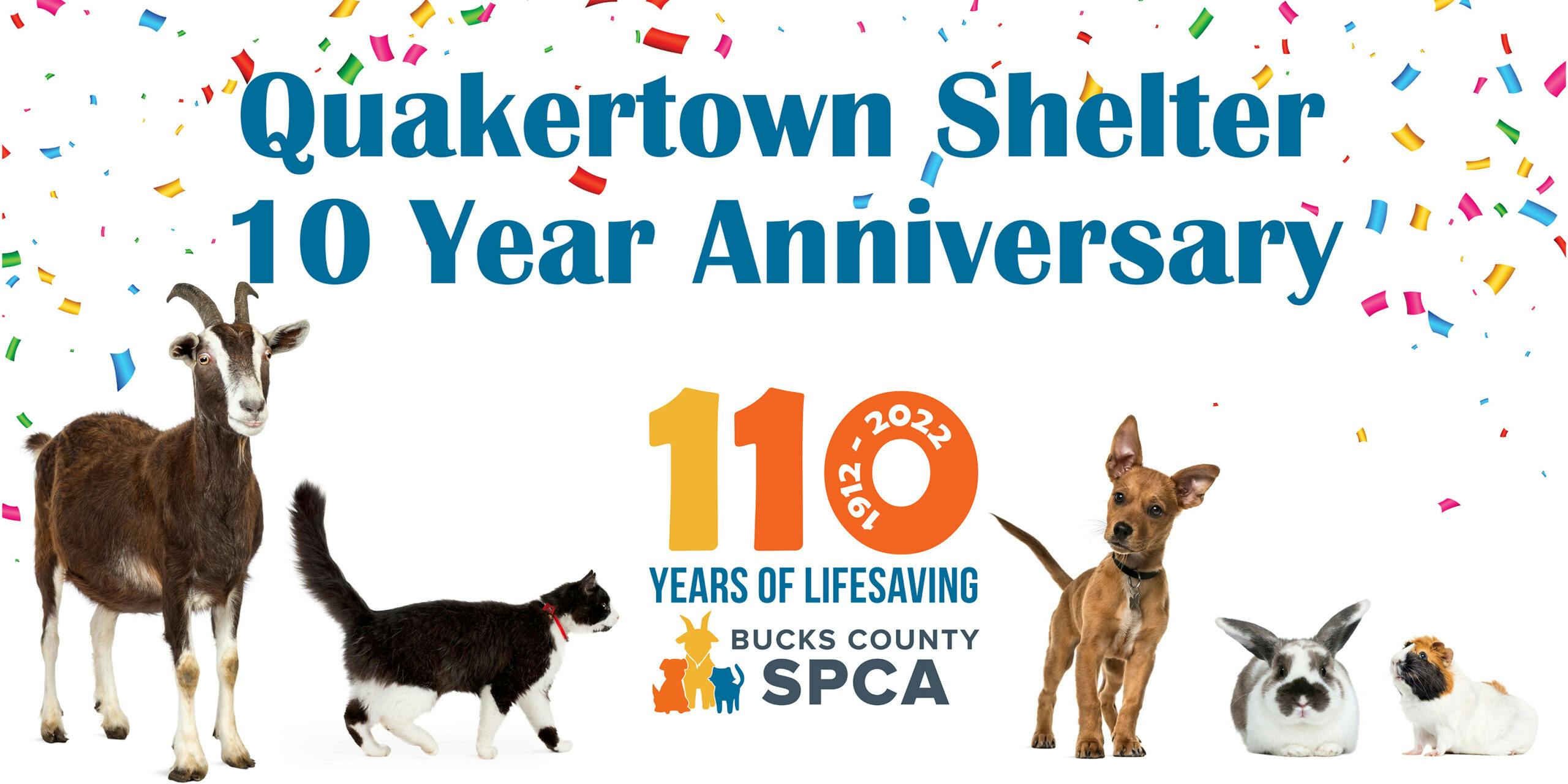 On February 18, 2022, the Bucks County SPCA (BCSPCA) hosted a kickoff celebration to mark the 10th anniversary of its Quakertown shelter and 110 years of the agency's lifesaving work across Bucks County. Since its founding in 1912, the BCSPCA has been tireless in its efforts to end animal cruelty and assist animals in need through rescue, rehoming, cruelty investigation and prosecution, and community outreach.
The anniversary event held at the BCSPCA's Quakertown shelter included board members, staff, 10-year volunteers, community members, and Rex, the first animal adopted in 2012 when the shelter opened. At the time, Rex was a 6-month-old puppy in need of a home. Scott Elsesser worked on the shelter during its construction. He and his wife Michelle adopted Rex and have enjoyed 10 wonderful years with the playful chocolate lab.
Linda Reider, BCSPCA executive director, honored the significant contribution of Marcia Hill, a longtime former board member who is largely responsible for making the Quakertown shelter a reality. When the organization identified the need for a second shelter to serve the community in Upper Bucks, Hill's tireless efforts paved the way for the facility that was built on Reservoir Road in Richland Township. In addition to housing dogs, cats, and small animals, there is a roomy barn and pastures that have served hundreds of farm animals including chickens, cows, horses, sheep, pigs, and more, all rescued by BCSPCA. Hill remarked that, "the community in Upper Bucks was so welcoming when the shelter opened, and it still is. It's wonderful to know that so many lives have been touched through the good work done here."
BCSPCA board president Dianne Magee highlighted the impact of the Quakertown shelter in its first 10 years including 20,624 animals served; 9,773 animals adopted; 1,320 lost pets reunited with their families; 1,000 animals rescued by BCPSCA animal cruelty investigations; 969 animals transferred in from other shelters and rescues; and 2,289 cats sterilized through its public spay/neuter clinic.
Magee said, "The Bucks County SPCA is an independent animal welfare agency founded in 1912 with an original budget of $2,000. It is not a branch or chapter of the ASPCA or any other animal welfare organization, nor is it a municipal or tax funded agency. The Bucks County SPCA has always relied on the support of individuals and businesses who share our mission. As we mark this important anniversary and the accomplishments of our first decade in Quakertown, we are grateful for the sustaining support of our friends and neighbors who help us save thousands of lives in Bucks County each year."
Click here to view photos of the kickoff party.
Categorized Under: BCSPCA News