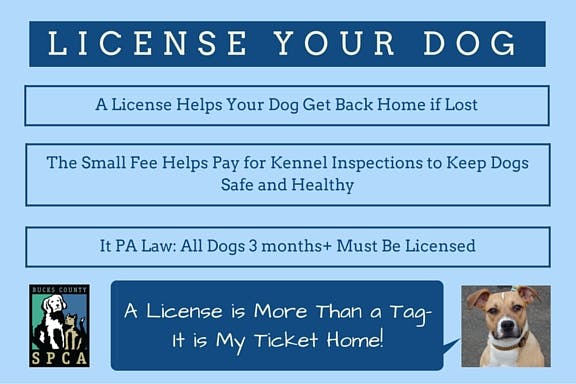 What is the Dog Law?
It is the statute that contains provisions commonly thought of as the "leash law". It requires licensing of all dogs over 3 months of age. It also requires kennels to be licensed, and includes provisions for inspecting and regulating kennels including large commercial kennels (which are sometimes referred to as puppy mills), nonprofit kennels like animal shelters, boarding kennels and all places that keep a cumulative total of more than 26 dogs in the course of a year.
The Dog Law also contains a section on rabies vaccination which requires all dogs over 3 months of age to be vaccinated and all cats to be vaccinated if they spend any part of a 24 hour day inside a dwelling. (Cats that spend all of their time outside are not required by law to be vaccinated). If a dog does damage to livestock the Dog Law contains provisions for the livestock owner to be reimbursed from the Dog Law Restricted Account. Dangerous dogs are also covered. If a dog attacks a person or other domestic animal without provocation, a hearing can be held before a judge where evidence is presented to have the dog declared dangerous. Owners who choose to keep dangerous dogs must carry extra insurance and take additional precautions so that their dog is not a danger to others.
The Dog Law also contains a section that requires that animals dogs and cats adopted from shelters or pounds in Pennsylvania must be spayed or neutered, either before they leave the shelter or soon after. It is a lengthy and complex law that covers a variety of topics related to dogs.
Who Enforces the Dog Law?
The Dog Law is enforced by police or animal control officers hired local municipalities and also by state dog wardens who are employees of the Department of Agriculture. Dog wardens are the only officers with jurisdiction to inspect kennels and enforce kennel regulations. Humane society police officers cannot enforce the Dog Law. The only law that they have jurisdiction to enforce is Section 5511 of the PA Crimes Code, which covers cruelty to animals. It is no wonder that members of the public are sometimes confused about where to report a problem.
How is Dog Law Enforcement Funded?
All of the activities of the Bureau of Dog Law Enforcement are paid out of the Dog Law Restricted Account. The Dog Law Restricted Account is funded principally by dog license fees, kennel license fees, and to a much lesser extent by fines from Dog Law violations. None of the activities are paid for by tax money like other government services, nor are they funded by donations like the work of non-profit organizations. The restricted account pays for a staff which includes administrators, more than 60 dog wardens state wide, a new special team of 4 kennel inspectors who handle problem kennels, and a new special prosecutor to help dog wardens with their important cases in court. It also pays reimbursement for livestock damage claims, and grants to shelters and humane societies which house stray dogs. Dog lovers should know that buying their dog license is the most important step that they can take to assure that important activities like inspection of kennels continue to take place. Kennel inspection and enforcement efforts are what makes sure that dogs are being properly cared for in large commercial kennels also called "puppy mills". Buying a dog license is a very real way to put your money where your mouth is on this important issue. A multimillion dollar budget is raised every year in $6 and $8 increments when people renew their dog licenses. Licenses are available from the County Treasurer or at the Bucks County SPCA.
Why is Dog Law Part of the Department of Agriculture?
Dogs are not livestock so this does not make sense to many people. The answer comes from the history of dog licensing in Pennsylvania, which has always been an agricultural state. Statewide dog licensing began around 1920 as a means to establish a fund to repay farmers for livestock damage caused by dogs. The restricted account was established and over the years the rest of the law grew around this original purpose. The restricted account assured the continued activities, since money from dog licenses cannot go into the General Fund to be spent for unrelated purposes.