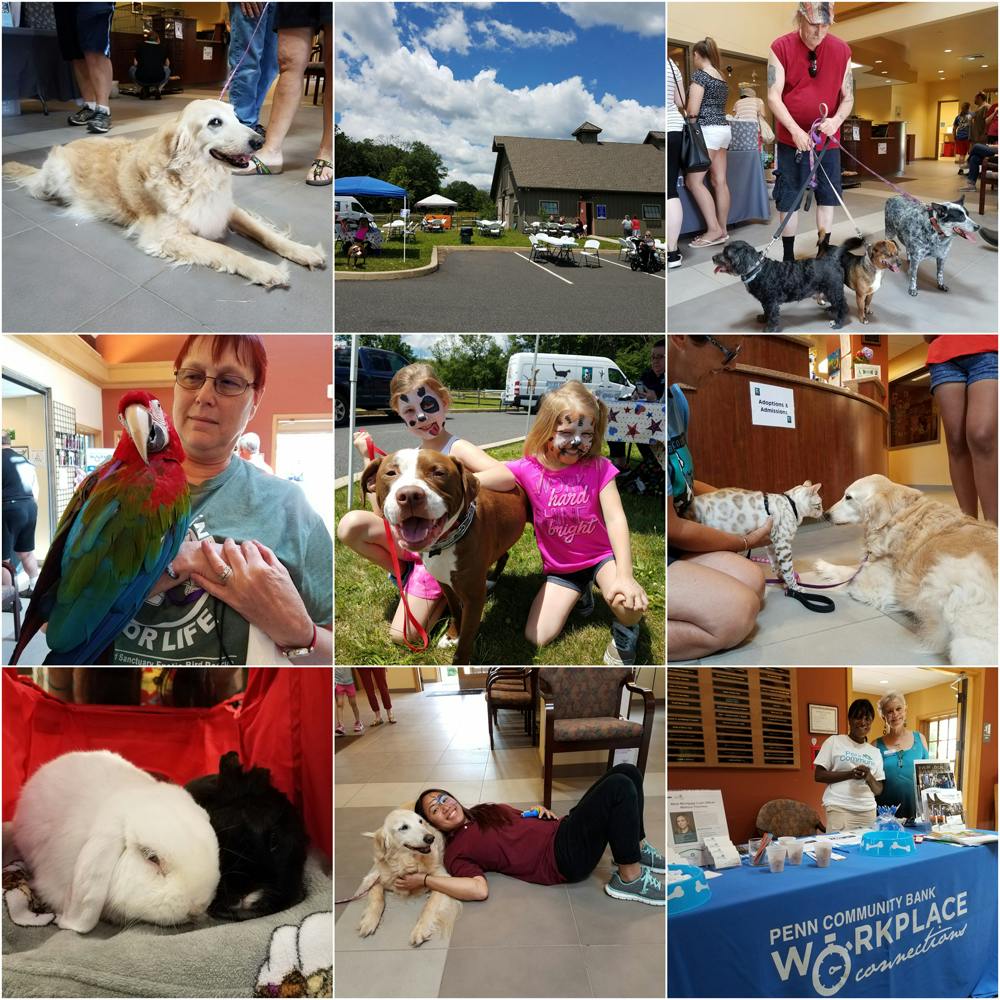 The Bucks County SPCA welcomed more than 250 visitors to its Quakertown shelter Open House on Saturday, June 22. Old friends and new came to tour the shelter, including a behind-the-scenes look at the clinic where thousands of animals receive lifesaving care each year. A variety of animal alums adopted from the SPCA's two shelters were also in attendance. Maisy the rescued Golden Retriever served as canine greeter in the lobby. Rusty the Macaw accompanied Vicky from Feathered Sanctuary. He and several other birds, cats and dogs were rescued by BCSPCA in 2017 and several of the birds were placed with Feathered Sanctuary in Lancaster. Even BunBun the rabbit with his new pal Trouble toured the shelter in the comfort and safety of their own stroller.
In addition to children's activities, raffle baskets and shelter tours – it was an excellent adoption day with 16 deserving pets going home with new families. Tri-girl is a King Charles Spaniel who quickly won the heart of her adopter. She is one of 22 small breed dogs rescued in May by BCPSCA from a local breeder who kept the animals in poor conditions. Nine of the little dogs have already been adopted and 3 were placed with breed-specific rescues. The remaining dogs are in foster care or continuing to receive medical treatment before being made available for adoption. All available kittens from our foster program were adopted on Saturday, as well as one of many available barn cats. The SPCA rescued 140 cats and kittens from a home in Doylestown in May. While some will make excellent companions, many of these animals are better suited for a more independent lifestyle as a working cat in a greenhouse, barn or workshop. There is an urgent need to place these cats because both shelters are running at maximum capacity. Now is a great time to add a working cat to your property with adoption fees for barn cats waived through Labor Day.
The 2019 Open House event raised nearly $12,000 to help homeless pets in Bucks County. BCSPCA appreciates the support of Top Dog event sponsor Penn Community Bank and every sponsor and volunteer who made the day a success for the animals. As a locally-supported, independent nonprofit, the organization relies on the generous support of animal-loving individuals and businesses to keep its doors open 365 days a year. You are always welcome at the shelters in Quakertown and Lahaska. The SPCA is an excellent place to adopt a new pet, get your cat neutered, or give back by volunteering or donating to help the animals.
Categorized Under: Adoptions,BCSPCA News,Education,Foster,Volunteering