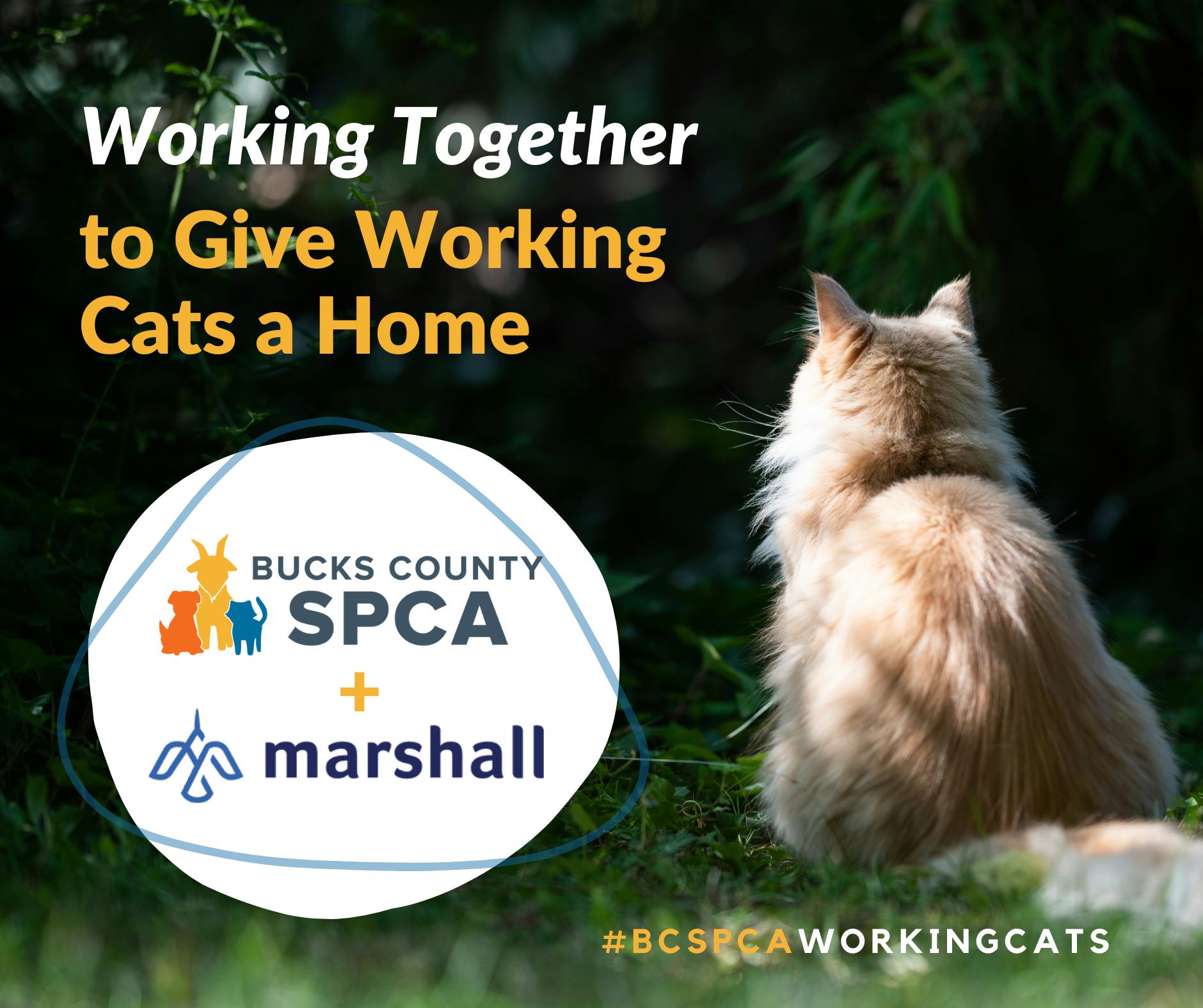 Marshall Financial Group Sponsors Adoptions for Working Cats This Fall
They say that if you love your job, you'll never have to work another day in your life. That's what the barn cats (or "working" cats) available for adoption at the Bucks County SPCA are looking for—a safe and happy place to do a job that comes naturally to them.
When Marshall Financial Group found out about the many beautiful barn cats available for adoption with the BCSPCA, they wanted to help spread the word. The local financial advisory firm will be sponsoring the real cost to the shelter of housing and feeding the animals so that adopters are left with only a small $10 adoption fee (which helps the BCSPCA ensure cats are headed off to a good life).
"Our primary goal at Marshall Financial Group is to help clients live their happiest, healthiest, most productive lives," says Paula Nangle, CFP®, the firm's president. "It's only fitting that we can give these hard-working cats the same opportunity. We want to see these cats who often get overlooked land with a home where they are well-fed, comfortable, and able to live out their lives in the happiest and most humane way possible."
The facts about working cats
Working cats are cats who thrive when they have the freedom to roam in a safe environment like your barn, greenhouse, or workshop. They are unlikely to develop the temperament needed to live in close contact with people as a housecat and are much happier outdoors hunting rodents alone.
"Sometimes, people misunderstand the fact that these cats actually want to be outside," says Cindy Kelly, Director of Communications at the Bucks County SPCA. "They are often afraid of people and don't have the ability or desire to become lap cats. While they may gain some trust with you over time, these cats are happiest and healthiest when given space to roam and hunt. It's a win-win for everyone."
In exchange for their hard work as exterminators, working cats need food, water, and medical care along with a dry, safe place to live. Learn more about caring for working cats and view our working cats available now.
Categorized Under: Blog,Working Cats