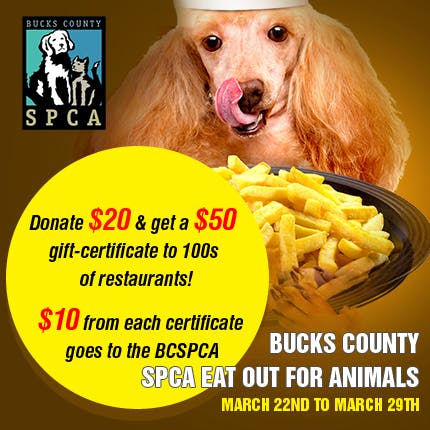 Eat Well, Save Money and Help Animals
The Veterinarian Fund, Restaurant.com and the Bucks County SPCA are teaming up to help you do all three! Here's how it works: you give $20 through the Veterinarian Fund and get a gift certificate for the restaurant of your choice valued at $50! Half of your donation -$10- will come to us to pay for the care of our animals.
You can choose from any of the hundreds of restaurants on restaurant.com and your gift certificate will never expire. Simply make your gift at www.thevetfund.org/campaigns/bcspca. Then have a great meal and the pleasure of knowing you are helping animals get a second chance at a healthy, happy home.
Even better, an anonymous donor has agreed to pay for all of the administrative and credit card fees for each donation.