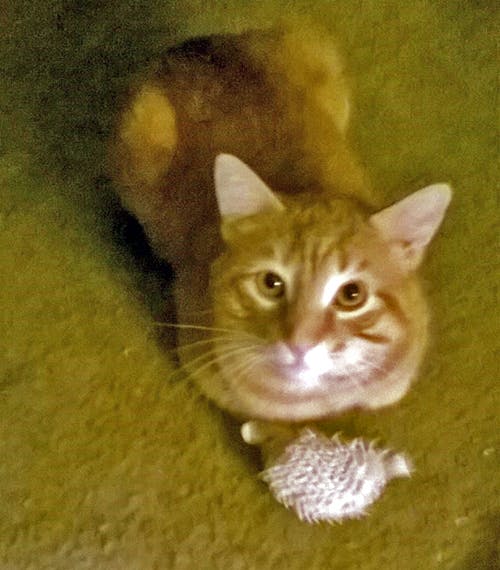 04/27/17 UPDATE: Thanks to the generosity of animal lovers in our community, the reward has been increased to $1,250. Please call our cruelty hotline at 215-794-7425 x107 if you have information about the shooting of Scooby the cat.
Any funds raised toward the reward will be directed to the care of animals at the BCSPCA in the event that the reward goes uncollected.
– Original Post –
The Bucks County SPCA is offering a $1,000 reward for information leading to the conviction of the person(s) responsible for shooting and killing a well-loved cat named Scooby.
Scooby was shot with a gun on Monday, April 10 between 2:00 PM and 4:00 PM in the area of Creekside Apartments on Knights Road, Bensalem, PA. Scooby was an adult male, orange tiger stripe, short-haired cat who regularly came and went from his apartment home. His owner reports that Scooby was friendly and played with all the children in the apartment complex. She and her neighbors are distraught over the loss of Scooby.
When Scooby's owner found him injured, she took him to the veterinary clinic of the Women's Humane Society in Bensalem. They determined that the source of his injuries was a projectile. "The Women's Humane Society is deeply concerned about this situation," said CEO Cathy Malkemes. "Despite our veterinarian's best efforts, a pet owner has lost her beloved cat due to someone's cruel actions. We are determined to work closely with the Bucks County SPCA Cruelty Investigations Division to resolve this matter."
Bucks County SPCA Humane Officer Nikki Thompson is investigating the shooting and awaiting results of a necropsy exam. Tips and inquiries about the case should be directed to Officer Thompson at our cruelty hotline, 215-794-7425 x107.
"This kind of cruelty inflicted upon an innocent animal is completely unacceptable and clearly against PA anti-cruelty laws," said Linda Reider, Executive Director of the Bucks County SPCA. "We are asking members of the community to contact us immediately with any information about this tragic shooting so that the responsible person(s) can be held accountable for Scooby's death."
Categorized Under: Humane Investigations