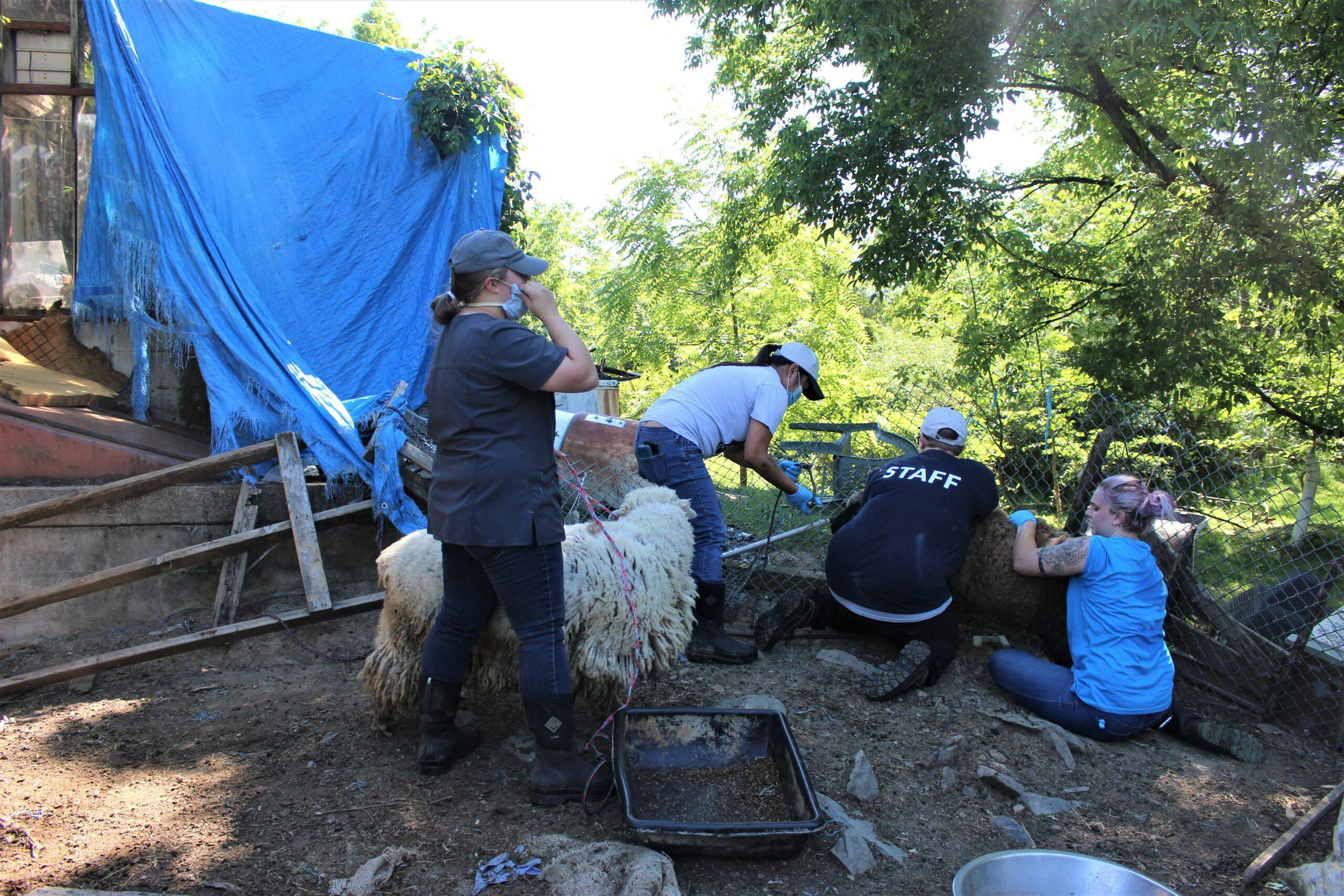 Lahaska, PA – After an extensive investigation, the Bucks County SPCA (BCSPCA) rescued 62 animals in urgent need from a rural property in Plumstead Township on Wednesday, July 29, 2020. Holly Hoagland, the property's owner, claimed to be operating an animal sanctuary. Charges of animal cruelty are pending.
Multiple animals, including 41 ducks and chickens, were found to be living in filthy pens, trapped in temperatures of over 100 degrees Fahrenheit with no access to food or water. Four of the sheep on the property had extremely thick, matted coats and were also without access to food or water. Eight cats and kittens appeared to be ill and were living in unsanitary conditions.
Officer Thompson and her team served a search warrant, and with assistance from Plumstead Police Department and the Plumstead Fire Department, transported the suffering overheated animals to BCSPCA's comfortable barn and pastures in Quakertown, the cats and kittens will be cared for in the society's shelter on Reservoir Road. The BCSPCA veterinary team is overseeing the medical evaluation and treatment of the 62 animals.
"While we are saddened to witness suffering of this scale, we stand ready at all times to rescue both pets and farm animals from situations like this anywhere in Bucks County. The support we receive from the local community means these animals will get the medical treatment and expert care they so desperately need, and the person responsible will face charges of animal cruelty," said Linda Reider, executive director of the BCSPCA. "We cannot change these animals' past, but we can change their future."
The community can help by donating to the BCSPCA Animal Relief Fund which will help fund the care of these animals. Donations can be made online or by check sent to BCSPCA, PO Box 277, Lahaska, PA 18931. Designate your gift for "Animal Relief Fund."
Categorized Under: BCSPCA News,Humane Investigations